FREQUENTLY ASKED QUESTIONS ON
CONVERTING A FORD VAN TO 4 WHEEL DRIVE
---
Index to often asked questions
GENERAL QUESTIONS:
Why?
How did your wife feel about the conversion?
Costs and expected labour hours?
Where do you get parts?
Are all the proper mounting holes existing in the chassis?
Do you have to fabricate any new brackets, mounts, parts, etc?
WHAT SORT OF 4X4 IS IT?
Can I use taller tires?
What fuel mileage with the diesel?
Should I convert my current van?
Could I convert a short wheelbase van?
Can a GM/Dodge van be converted to 4 wheel drive?
What is the ORDER OF CONSTRUCTION ?
HOW DID YOU CONVERT YOUR VAN TO 4 WHEEL DRIVE? See the detailed file on the conversion.

Specific Drivetain Components:
TRANSFERCASE
SHIFTER, how and where?
What are the NP203 and NP205 transfer-cases you mentioned here?
An opinion on full time 4 wheel drive vs. part-time and locking hubs
Is there problems with something no longer spinning that does not get oiled...
Why is the transfercase side mount not needed?
FRONT AXLES
Weight ratings
What fits?
Turning radius, is it changed?
Axle ratios
REAR AXLES
bolt patterns
What fits?
BRAKES
Proportional valve changes required?

---
WHY?
I'll just start right in at the beginning, why I did it: We have four kids and like to travel, a mini van doesn't cut it, but we need good fuel mileage, so I bought the E350 diesel van.
Wonderful machine, got 25MPG(imperial) but was terrible in snow. The weight of the diesel just pins the front wheels in 2" of mud or snow. Tried chains, they work OK, almost as good as 4wd, but inconvenient. Priced a limited slip differential, nearly $800cdn. Heck, I told the wife, I could convert the van for that! (wrong)
I had always had a 4x4 and wished to have one at this point. It was hard to justify a second vehicle with all the costs and up keep, and it was desirable that we should be able to get the entire family around in the winter. A Suburban didn't have the seating capacity unless you have the rear "jump seats", then you loose your cargo room. The van was the vehicle of our dreams but the winter handling was a nightmare.
The conversion looked like it would be easy. At first glance the truck and van frame and at least the 2WD suspension seems similar. I was under the misunderstanding that a a 4WD and 2WD truck shared the same frame. This is completely untrue, and the van frame is about 6 inches wider than the truck frame. There is quite a bit of work involved in the conversion.
Does all this sound worth it? It sure is! Front approach angle and visibility are excellent with a van. Unlike a pickup you can see over the hood. With the seats so close to the door, you can look out and see your front tire. If this and lots of passenger/cargo space are what you want, a 4wheel drive van conversion makes sense.
WIFE'S FEELINGS
>How did your wife feel about the conversion?
My wife was a little leery at first, now she really likes the winter safety of the full-time 4wd. She gets a kick out of the comments and attention the van generates.She wasn't too keen about the 35" tires going on the van. When her friends or strangers ask "How come your tires are so big?" she answers "It's a man thing!"
My wife was wanting a nice trendy mini-van or sport utility. She was not at all impressed when I brought home the big yellow diesel (ie noisy and stinky) E350 monster. I said "look honey, you wanted a mini-van, I got you the biggest one they had!" (spent night in dog-house)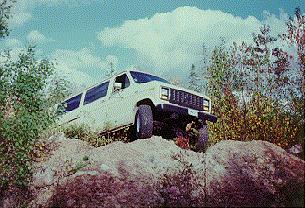 COST AND TIME >I am interested in costs and expected labour hours, etc...
The total cost was about $3000 Canadian ($2000 US) in 1993 and the project took 6 weeks of evenings and weekends with the help of a few friends and my pre-teen kids. (Passing tools, cleaning the shop, putting the bolt in while Dad holds the part up)
SOURCING PARTS >Could a person use wrecking yard parts? >Or, are there custom parts sources for these items? >Or, did you buy new Ford parts? > It seems like getting all the parts together would be the first big obstacle. >Did you just find an F350 4x4 truck somewhere and strip it of all needed parts? Or what?
I wish I could "find an F350 4x4 truck somewhere and strip it of all needed parts"! I would have prefered a Dana 60 front axle as used on the F350 to match my vans original weight capacity, but I could not find any F350 front axle parts at all in this part of the country. Some "heavy duty" F250 trucks also had the Dana 60 front axle. The van carries a lot of weight on its front axle so I recommend the beefy front axle.
I found many salvage yard transfer cases, transmissions, drivelines, front differentials, hubs, and suspension assemblies over-priced, worn-out and stripped of many necessary parts. I wanted the NP203 full time transfer case, bought it and a transmission from a private sale. Later I found a rusty 1978 3/4 ton pickup with an excellent front axle in the ratio that I wanted with good driveshaft splines for $1000. I used only the front axle and driveshafts, managed to sell almost $500 worth of parts off the truck. Didn't plan to sell parts, I just live on a busy road and people kept asking...
All "maintenance" parts such as "U" joints, chassis bolts, hoses, brake pads, and calipers were bought new, many from Ford but also from other suppliers. Don't try to reuse any of this stuff if it is at all dubious. "There is never enough time or money to it right the first time, but there is always enough time and money to do it over!"
Some parts like the left exhaust manifold and the oil cooler/filter assembly (pick-up style) for the 6.9 diesel were bought from salvage yards.
I really recommend getting a "donor" parts truck ,if you can. Even better would be to find a professional 4x4 van conversion all ready done for you if you could.[Top]
MOUNTING HOLES >Were all the proper mounting holes existing in the chassis?
No, none. The van chassis is completely different from the Ford truck.
FABRICATION >Did you have to create/fabricate any new brackets, mounts, parts, etc???
Yes many, but it's not that bad... I designed and drew plans of the needed parts for the welder or machinist. Fabrication and machine work was hired out to local shops.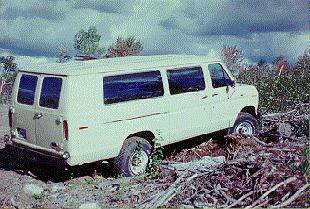 WHAT SORT OF 4X4 DO YOU HAVE? >I want it to work well on ice and snow. >I want it to be offroad capable, mud backroads and ruts. >This will be a comfortable "one vehicle does all" travel-mobile. >I want a van for camping, fishing, snow tubing and long trips.
This sounds much like my goals. Soft springs, moderate tires, low lift, high axle ratio, and fuel economic parts make sense if fuel mileage and daily use are important. I used leaf springs (easier to install) but coils would retain your stock spring rate and a bit better ride. If you can do the fabrication, coils would be my choice, but leaf springs are rugged, easy to locate accurately, easy to install and simple.
LARGER OFFROAD TIRES >I would like to use slightly taller tires.
No problem! Up to 33"x10" tires will fit easily under a Ford conversion with no rubbing at all. The standard 235/85R16 tires on a 3/4 ton are 30"-31" tall. My van has been raised 3" higher than a stock 3/4 ton van and I am using 35"x12.5"R16.5 tires all round. This is about maximum for my van. The front tires lightly touch the leaf springs and body and the rear tires lightly touch the inner wheel well when articulated. The sliding door lightly rubs on the 12.5" wide rear tire as the door is opened.
FUEL MILEAGE >You said you were running a diesel. >Which one and what kind of mileage are you seeing?
My van is an 87, it has the 6.9 litre diesel with the C6 3 speed automatic and 3.50 "highway" gears. Although underpowered (165hp), I like the diesel very much. It makes daily driving an affordable joy. The 7.3 has a bit more power and is rumoured to be a bit more durable. The PowerStroke 7.3 is even more powerful but noisier.
Our Canadian quarts and gallons are (were, we are officially metric now but miles per Imperial gallon is how I still figure my fuel mileage) slightly bigger than the US quarts and gallons. There are approx 4.5 US quarts to a Canadian gallon. I quote my figures in miles to Canadian gallon so they will seem high.
My diesel van in 2wd gave the following averages:
25mpg smooth flat highway at 65-70 mph
20 mpg smooth flat highway at 70-85 mph
22 mpg hilly highway at 65-70 mph
18 mpg stop and go local driving, fairly easy on gas pedal
16 mpg stop and go local driving, heavy gas pedal worst fuel mileage
17 mpg pulling 21' travel trailer at 50 mph
14 mpg pulling 21' travel trailer at 55-65 mph
11 mpg pulling 21' travel trailer at 70+ mph
Presently with the van converted to 4wd I get about 16 mpg for local driving.
20 mpg is about tops on smooth flat interstates if you can keep the speed below 65 mph.
17-18 mpg on our hilly highways at 60-70 mph.
15-17 mpg on a recent trip at highway speeds, snowy highways. The 15mpg tank was with center differential locked in snow to assist braking.
It rolls along pretty smoothly and speeds tend to creep up.
1 imp gal = 4.54609 Ltrs
1 Ltr = 0.219976 imp gal
1 US gal = 3.7854 Ltrs
1 Ltr = 0.264178 US gal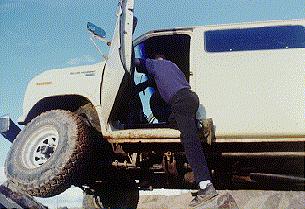 No doubt about it, that first step out the door is a big one! This is my son actually.
Should I convert our current van?
You are going to spend a lot of effort and a considerable amount of money on this project, I think you would want the effort to please you for a long time to come. I think it would be well to start with the best van possible to meet your needs. If you are pleased with your van and it is not rusty then stick with it. It will lose some power due to weight and drag of the 4 wheel drive gear so you had better have plenty of power. It is kind of nice all these vans from mid 70s to early 90s look the same so that if you have an older van in good shape it will still look up to date.
The best approach would be to look at where you want to be and figure the best way to get there. What motor, transmission and transfer-case do you want? What wheelbase, long or short? Do you want an extended van? Sliding or hinged doors? Regular seats or customized camper? What options? A/C front and rear? Power locks? Captains seats? Make your list and approximate your costs. See how close you are now and investigate options. It may be better to start with a van that is already 90% of what you want.
SHORT WHEELBASE >Could I convert a short wheelbase van?
A short wheelbase van would make a perfect offroad and urban vehicle in my opinion. I can see no reason that it would be anymore complicated than a long wheelbase van conversion as long as you did not use a divorced transfer case, which would make the rear driveshaft too short.
GM OR DODGE VANS > Can a GM/Dodge van be converted to 4 wheel drive?
Quigley's does do GM and Dodge conversions, I have not seen one so I can only speculate as to how easy it would be to convert a GM or Chrysler van. This was my first 4x4 van conversion so I wanted a minimum of complications and a maximum of results.
I had attempted a Dodge conversion about 10 years ago. I had a Dodge 4X4 chassis and bought a van, but soon decided this was going to be too difficult to be successful due to the front differential and motor both being offset to the passenger side. Also the frame dips down in the front to attach the front suspension "A" arms so that the frame interferes with axle clearance. GM vans share these liabilities.
Ford vans have the frame kick up in the front to clear the twin "I" beams and Ford offsets its differential to the drivers side, although the under motor crossmember does crowd this area a bit, there is clearly more room available. The Ford also has a heavy "U"section straight frame that is easy to measure, drill and mount to. I was looking for a first time success without huge difficulties or a huge suspension lift to cover the problems. The Ford and Ford drive train looked like the clear way to go.
I saw a Chev conversion that was very discouraging. I didn't need this van to be undriveable for a year, not pass safety or certification inspection or have to be redone. It had to be down a minimum amount of time, handle safely and not cost too much. I didn't need problems. I stuck very close to a simple stock leaf spring suspension of a 1978 Ford F250 pickup. The certifying engineer did not have to use much imagination to realize it would work.
As it turns out, the passenger side motor offset is a common factor with all van conversions. You could use a Ford front axle in Dodge or GM van for the offset but I don't really like to mix parts up this much. I worry it would destroy resale potential. It appears "Pathfinder" may have done their conversions this way in spite of these problems.
I don't know if Quigleys uses Ford front axles to do their Dodge and GM conversions, but a "Pathfinder" GM van conversion belonging to James C used a Ford style (drivers side differential) front axle and Ford style New Process 205 transfercase. This may be the clear way to go to make a GM or Dodge 4x4 conversion van. I can see the run on old Ford 4x4 F250s now...
ORDER OF CONSTRUCTION
(1) Find out all you can about this conversion and decide what you really want for parts.
(2) There is no doubt in my mind you should put the transfer case in first. It is a test to see if you are going to be able to do the rest and like it!
(3) You should raise the rear at least 2" at this time with stock Ford F150 4x4 spring lift blocks (or 3" with stock Ford F250 4x4 spring lift blocks if you wish) so your rear driveshaft length comes out right. You can get a spare driveshaft cut to length and keep your stock driveshaft and transmission set aside if you have any doubts whether you can finish this whole conversion.
(4) This is it, decision time! If you think you have the skills and really want this, torch the front suspension off (no going back now!) and get ready to install the front drive axle.
(5) There may be some certification work nesessary for your province or state, be prepared.
HOW DID YOU CONVERT YOUR VAN TO 4 WHEEL DRIVE? See the detailed file on the conversion.
Specific Drivetain Components
TRANSFERCASE SHIFTER >Did you get an electronic shifting transfer case, so that shift linkage can be avoided? >Or, did you have to create custom shift linkage that comes up through the floor somewhere?
The NP203 uses a 5 position stick, gave it an 8" offset with a piece of 2" X 10 "X 1/4" steel strap. It pokes through a slot in the floor right beside the drivers seat with a rubber boot keeping out the dirt and noise. Perfect. The NP205 is similar, as are most lever shifted transfer cases.
TRANSFERCASE types New Process NP203 and NP205 >What are the NP203 and NP205 transfer-cases you mentioned here?
The NP203 and NP205 are older cast iron transfer cases dating from the 1970s that bolt to the C4 and C6 3 speed automatic transmissions as well as 4 speed manual transmissions and GM and Chrysler transmissions eqipped for it. There are "divorced" or separated transfercase models of both these transfercases for all the manufacturers. These "divorced" transfercases may be just the ticket for some odd drivetrain combination but they are harder to line up properly, have to be well mounted and require and extra driveshaft, spline and pair of universal joints. As well the "divorced" transfercases require a shorter rear driveshaft that may make them out of the question in short wheelbase applications.
Fords have the front output shaft on the drivers side whereas GM and Chrysler's have the front output shaft on the passenger side. The tough cast iron case resists rock damage and case stretching better than the new aluminum cases. Both the NP203 and NP205 must use heavy gear oil (more drag) due to their gear reductions and are noisier and much heavier than the newer aluminium transfer cases. Some of the later versions of these transfercases reputedly specified 10w30 motor oil, I cannot verify this but in actuality the viscosity of both these fluids is very close. I recommend synthetic gear oil in either of these transfercases for its noticably reduced friction.
The NP203 , first offered in 1973., is a full time transfercase with a lockable differential between the front and rear outputs. This allows it to be constantly or "full-time" in four wheel drive in all road conditions. The center differential can be locked to make it perform exactly the same as the part-time NP205 does when it is engaged in 4wd. It uses a silent chain to transfer power to the front output shaft and has a low range reduction . Trucks with the NP203 do not normally have locking hubs. There was a kit that converted these transfercases to part-time operation by replacing a part in the transfercase and optionally installing locking hubs. It is not very popular due to its (greatly exaggerated) reputation for increased fuel consumption and (again greatly exaggerated) weak chain. They can often be bought very cheap.
The NP205 is a part-time transfercase that can disconnect the front output. It uses a stronger (but noisier) gear instead of a "silent chain" to transfer power to the front output shaft and has a low range reduction as well . When locked into four wheel drive this transfercase couples the front driveshaft directly to the rear and allows no slippage or allowance for differing front and rear driveshaft speeds as the vehicle turns a corner on hard surfaces. On hardsurfaces this transfercase is designed to be used in rear wheel drive mode, this is why it is called "part-time". When used in conjunction with locking hubs on the front axle this transfercase may offer 5% to 10% better fuel mileage than the full-time NP203
>ADo you have an opinion on full time 4 wheel drive vs. part-time and locking hubs? I understand there is a difference in gas mileage but vans >were never economy vehicles to begin with. Is one less prone to breakage >than the other?
The old full-time transfer-case is cheap, strong and idiotproof. My wife never liked my old part-time trucks because she'd forget to lock it in until she was stuck, then the hubs would be frozen.
I have locking hubs on my full-time van and did some experiments with removing my front driveshaft on long trips. I found there is perhaps a 5-10% difference in fuel mileage at most. We can appreciate 4WD from Oct to April here due to unexpected icy conditions at night. I will pay the extra $200 or $300 a year in fuel costs. On the other hand, I did not mind the part-time trucks I drove either. I usually just left the hubs locked all winter and pulled the lever when I needed it. I am a bit of a safety fanatic at times and would leave my truck engaged in 4WD on gravel or wet "black ice" roads to enjoy the improved braking and control. I have never had any driveline failure I could attribute to this, but those old cast iron NP205 t-cases are tough.
It really gets down to a preference thing. If you really only need 4 wheel drive for a small percentage of the time and wish to avoid the little bit of extra fuel expense, stick with a part-time system. The newer aluminum boxes are a bit more fragile (especially if you hit rocks with them), but are lots lighter and more fuel efficient since they use lighter auto trans fluid. Unless you have a big motor and plan to really smash into the rough stuff, durability is not problem. Locking hubs are a good option to look for. I opted for them for versatility. Whether I want to install a part-time system in the future or should I break a front axle or "U" joint, I can unlock the hubs, pull the front driveshaft and limp home.
>I seem to remember a friend with converting from full time to locking hubs and running into >problems with something no longer spinning so something didn't get oiled...
Actually that conversion takes place in the transfer-case (transfer-case).That problem occurs even in original part-time transfer-cases as well. If you don't use 4WD for several months, the bearing rollers sit in the same spot of their races. The front driveshaft and axle "U" joints don't move. Grease doesn't move around and bubbles of moisture (which are always present) start to rust surfaces. The bearing races "take a set" and get small grooves from the constant vibration in the exact same spot. The roughness and rust cause early failure in spite of low use. Moral: engage 4 wheel drive at least once a month, even just locking the front hubs will do. Play more, pay less!
The newer aluminium transfer cases might be the only choice with the "AOD" 4spd auto unless adapters are used. The short 4wd output shaft spline on the AOD transmission is the same as the C6, but other than that I do not know about what other swap potential exists.
>Why is the NP203 or NP205 transfercase side mount not needed? It was designed to take up torque stress. The motor mounts do this adequately. I made one for my diesel but it transmitted too much engine vibration to the frame and body so I removed it with no ill effects. The automotive engineer who had to inspected my van agreed it is not necessary. (BTW, check with your state about "reconstructed vehicle" laws and registration, there may be a lot of problems getting an altered vehicle registered for the road)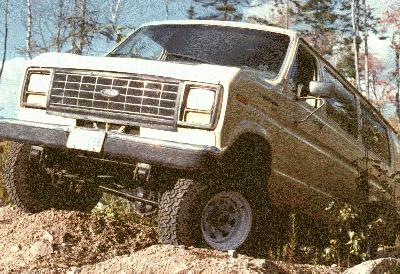 FRONT AXLES
First of all, let me say that I really recommend no smaller than F250 running gear for weight carrying, braking and width reasons. You may get by with an F150 front axle if you have a smallblock motor, stock 15" (235/75R15) tires and carry little weight (not a camper, no winch etc) but it is a marginal setup in my opinion. Ford E350 vans are readily available and are the best platform for one of these conversions.
The Dana 60 front axle from an F350 or HD F250 is not so readily available but would be my first choice for durability, ruggedness, weight carrying braking, and width reasons. The F250 Dana 44 or the F250 IFS setup would be second, but not prefered, choices.
>If the Vans, Bronco & F-Series are different widths, what front axles do you think will fit?
I used a 78 F250 solid front axle with leaf springs but I like the idea of IFS and coils for highway comfort. I had considered the idea. I would lean toward using no less than an F250 IFS for width. If you cut the centre IFS crossmember out it could be welded or bolted into where the present van crossmember is. The rear radius arms would connect close to the original van points. After 1990 F250s used leaf springs. Rugged, but coils ride better. The E350/F250 upper coil pockets measure pretty close but I am not sure how the coils would fit to the axle.
I believe these are your easiest choices in order of ease:
Any F350 or HD F250 Dana 60 solid front axle with leafs simple, quick, rough but extremely tough.
1979- F250 Dana 44 solid front axle with leafs simple, quick, rough and still tough
1979- F250 or F350 solid front axle with coils some fabrication, tough and smoother
1980+ F250 IFS front axle with coils, smooth ride, moderate fabrication
1990+ F250 IFS front axle with leafs, OK ride, but same amount of fabrication as above
F150 front axles all would have be widened and have marginal weight capacity for this conversion.
This is off the top of my head, but compared to my E350 van a:
1973-79 F150 solid front axle (Dana 44) is 4" too narrow
1973-79 F250 solid front axle (Dana 44) is 1-2" too narrow
1973-79 F350 solid front axle (Dana 60) is just right
1980-95 F150 IFS axle is 2" too narrow
1980-95 F250 IFS axle is just right
1980-95 F350 solid front axle (Dana 60) is just right
I didn't check any Broncos. I suspect same as F150.
>you have any idea if the IRS from a F-Series would fit an E-Series? >Could I use the same coil spring pads for an IRS system?
Due to the increased width of a van (I believe) the 1/2 ton IFS is too narrow. The 1 ton or 3/4 ton IFS (90-present) might work (I believe) well with a total crossmember replacement. I would love to hear from somebody who has done this.
>(wondering) if the coil mounts are in the same place as my van?
Me too. I like to try coils on my next conversion. The leafsprings work OK but my next conversion might use coils for the improved ride comfort.
>I'm also wondering about the smaller axle width. I want to see if I will >have to worry about hitting the frame in a full lock situation?
My axle is almost 2" narrower than the E350 original axle and with the 2" lift and 235R16 tires I had no interference at all. In fact my turning radius was tighter than original. The 35" BFG AT's would touch the inner fenders at full lock when the springs were compressed on one side. This is the only reason I lifted another inch to 3" over stock.
>Is there a way to install a block so the wheel doesn't contact the frame?
There should be adjustment bolts in the back of the spindles to limit your spindle arc. There are on my F250 Dana 44 straight axle.
>When you converted, did you loose much turning radius?
I actually gained a tighter turning radius! In fact I was worried about my steering box bottoming out before the wheels did (it didn't).
>Do you know if the front and rear axles from a F-Series truck will >bolt into an E-Series?
No, they will not just bolt in. I had planned on using my Dana 61 rear so I did not measure rear axles. I believe the rear spring pad width and differential offset is different on the pickups. Also there is not much clearance on the inside of the rear wheel wells. A slightly narrower front axle will work, mine is a 78 F250. More than 2" might be too much, especially if using the coil springs. I recommend no smaller than the F250. Otherwise you will have to get a F150 widened. Price it, may not be bad.
>Did you find the same ring & pinion ratios or did you have to have your >front end re-geared?
I did search for a front axle with the same ratio (3.50) but was prepared to change it if I had to. Dana 44 and Dana 60 gears for the front axles are readily available.
REAR AXLES:
About your rear axle and bolt patterns: I really recommend using 3/4 ton gear for the following reasons: The front axles are the closest to the proper width. The bigger brakes are better for stopping with the extra weight and big tires. The stronger drivetrain builds in more reliability. The extra weight and cost are minimal.
Van/truck rear axle assemblies don't interchange (I believe) but some parts (gears, brakes) do. The Dana 61 is an "almost 60" made to take 3.50 and higher gears. The Dana 60 usually comes with 4.11 and lower. I am told that Dana 60 gears will fit in the 61 with the use of a crown gear spacer, but I think not the other way around. Check with a good gear supplier. My advice is to stick with a van rear axle. Less headaches such as changing the spring pad positions. See if you can find the same ratios.
>So, I should measure the width of the rear end and try to match it?
I feel it is best to stick with a E250 or E350 van rear axle. The springpads and shock mounts are in the right positions. The width and differential offset are perfect.
It would be nice if you could just swap in the F250 or F350 pickup rear axles into the van. Maybe you can, I don't know. I am sorry but I just don't have any experience with this and did not look into it at all. Can any body help us here?
BRAKES >Did you have to change your master cylinder >and drop in a unit from a truck? Any problems with the proportioning valve?
No, thank goodness. It is too crowded in there for me to work!
If you are keeping your van rear axle, the pistons in the front calipers that are going on have to match the calipers that came off. Most of Fords calipers are pretty well standard sizes, so when I pulled the "twin piston" one ton front calipers off my 87 2wd spindles the pistons (unfortunately not the whole caliper) interchanged with the 78 4wd "twin piston" caliper.
This is the same case if you are using the F150 (or Bronco) front axle on an E150 van. The single piston caliper which should be the exact same diameter as the single piston caliper which is on your E150 van.
If you are swapping both axles, the wheel cylinders and caliper pistons will remain in proportion. The van will have more weight up front but the valving is as close as they come from the factory.
After you have everything assembled and can road test it, brake proportioning is something that you can test. If it is a problem it can be corrected by changing the proportioning valve, the pads/linings (organic/metal), or the read wheel cylinders (larger/smaller). But I am sure this won't be necessary.
Good luck and are you going to go ahead with it?
Hey, it's snowing up here tonight! What's your weather like?
Comments? Contact me at sbest@glinx.com