Changing the Dial-up Number
Click on the Apple menu in the top left corner of your Mac's screen:
Select "Control Panels".
Then choose "Remote Access" or "PPP", whichever one you have. Note: you will only have one or the other. If you have neither, contact Apple Canada for assistance installing this component of your Mac Operating System.
This will open your Remote Access Control Panel.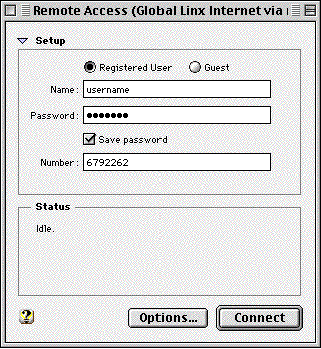 In this window, you will see a text box labelled "Number". In this box, delete the old Glinx phone number, and type in the new one.
At this point, you can either click "Connect" to get on the Internet, or click on the small square in the top left corner of the window in order to close it.