Changing the Dial-up Number
Click on the FreePPP menu in the top right corner of your Mac's screen:

Choose "Open FreePPP Setup".
The FreePPP Setup Window will appear. You will see three tabs, "General", "Accounts", and "Locations". If you do not see these tabs, click on the small blue triangle in the bottom left corner of the window to display them.
Click on the "Accounts" tab in order to display that tab's information: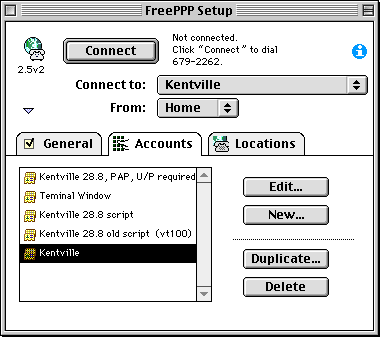 You should see a list of connections on the left side of this tab. Most likely you have only one connection listed. Click it once to make sure its selected and then click the "Edit" button on the right side. A new window will appear. This window will also have three tabs: "Account", "Connection", and "Options. Click on the "Account" tab to display its information.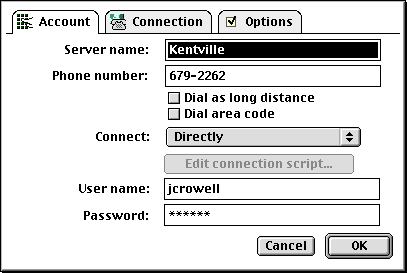 On the "Account" tab, you will see an entry for "Phone number". Remove the old Glinx dialup number from this box and type in the new one.
Below the "Phone number entry, make sure that there are no checkmarks in the boxes labelled "Dial as long distance" and "Dial area code". Also make sure the entry below those checkboxes, "Connect" is set to "Directly".
Then click "OK" to save the changes. You will be returned to the FreePPP Setup window. At this point, you can either click "Connect" to get on the Internet, or click on the small square in the top left corner of the window in order to close it.