Changing the Dial-up Number
You should have one of these two icons on your desktop, which represent the Glinx Connection Manager program:


Depending on which you have, the following screens may differ slightly.
Once you have identified this icon on your desktop, double-click it to open the program. Do not click "Connect" when the program opens. If it begins to dial automatically, please click the "Cancel" button along the bottom of the screen.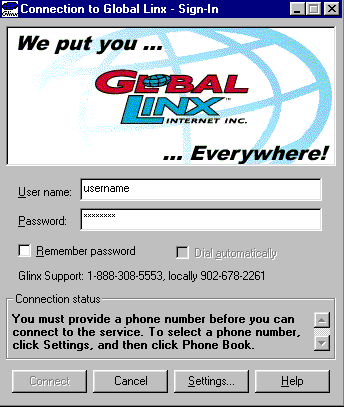 Click on the "Settings" button. If you are using Windows 98 2nd Edition, it may say "Properties" instead of "Settings". This should open a new window: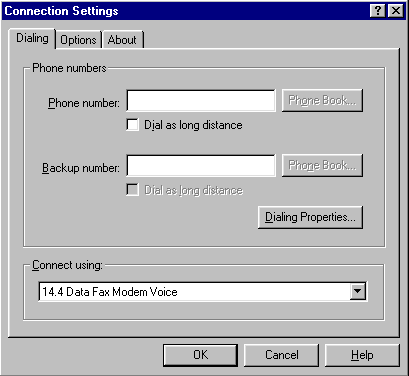 In the box labelled "Dial-up Number", delete the existing phone number and enter the new number: 678-6466 or 848-6000 . If you have a code entered in front of the dialup number to disable call waiting, such as *70, do not delete this code.
Also delete the entire entry in the backup number field. At this point, a backup number is not effective.
Click the "OK" button at the bottom of the window. You should be taken back to the original dial-up window, which contains your username and password.
In order to complete the process and save the change, click "Connect" and allow your computer to dial in to the Internet.