Extract the file
On your desktop, you should now have an icon that looks like this:

This is the file you downloaded.
Double-click on this icon to begin the extraction. You will see this window: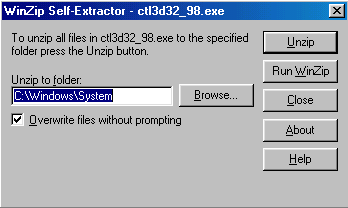 The "Unzip to folder" must say "C:\Windows\System". If it does not say this, type it into the text box, replacing the existing text.
The checkbox underneath should be checked. If it is not checked, click inside the check box to place a checkmark in it.
Click on the "Unzip" button to begin the extraction. This extraction process will put the downloaded file in the C:\Windows\System folder. When it is completed, a window will appear saying that one file was successfully unzipped.
Click the "OK" button on that window, then "Close" button.
Now the file has been updated. You can do what you wish with the file you downloaded, which is still on the desktop. Delete it, keep it or move it. Its up to you.